Ich bin Diplom-Übersetzerin (Hochschulabschluss der Universität des Saarlandes – 1991), "Für die Berliner Gerichte und Notare ermächtigte Übersetzerin für die englische Sprache" und Mitglied im Bundesverband der Dolmetscher und Übersetzer e.V. (BDÜ) – Landesverband Berlin-Brandenburg.
MA in Business Computing der University of Westminster, London. Professional Development Course Translation Technology – Software Localisation, Imperial College London. Higher Certificate of Wine" des London Wine & Spirit Education Trust Limited.
I'm a native speaker of German and and have a university degree in translation (German university degree 'Diplom' at the University of Saarbrücken– 1991). I'm officially entitled to translate for the Berlin courts and notaries (English) and I'm a member of the translator's association BDÜ.
In addition, I obtained the title of an MA in Business Computing at the University of Westminster, London and was awarded the Higher Certificate of Wine by the London Wine & Spirit Education Trust Limited. In 2011, I participated in the Professional Development Course Translation Technology – Software Localisation, Imperial College London.

Weiterbildung / CPD (ab / from 2016)
2016: Translating for the Art World, Copyright and Translation (eCPD webinars); Wissen und Werkzeuge
für Webpräsenzen, Teil 1 und 2, Datenschutz – Verfahrensverzeichnis / Meldepflicht im Datenschutzrecht (BDÜ-Webinare)
2017: Teilnahme an Elia Together
Introduction to Veterinary Medicine (eCPD webinar)
Embracing AI (eCPD webinar)
2018: Teilnahme an Translate Better (Workshop)
Effizientes Korrekturlesen/Neue deutsche Rechtschreibung (Tagesseminar)
2019: Teilnahme an der ITI Conference in Sheffield
2020: Emerging respiratory viruses, including COVID-19: methods for detection, prevention , response and control (WHO webinar)
2022: Diskriminierungskritisch Übersetzen (Webinar – Deutscher Übersetzerfonds)
2023: "Die heißeste Programmiersprache auf dem Markt? Englisch! – Eine Einführung in das Prompt-Engineering für Chat GPT und Midjourney". (Webinar – BDÜ)
Meine Fachgebiete
Wein
Reisen / Tourismus
Musik / Bildende & Darstellende Kunst
Bildung & Erziehung
Marketing / PR
Wirtschaft
Geistes- und Sozialwissenschaften
Denkpause mit Sam …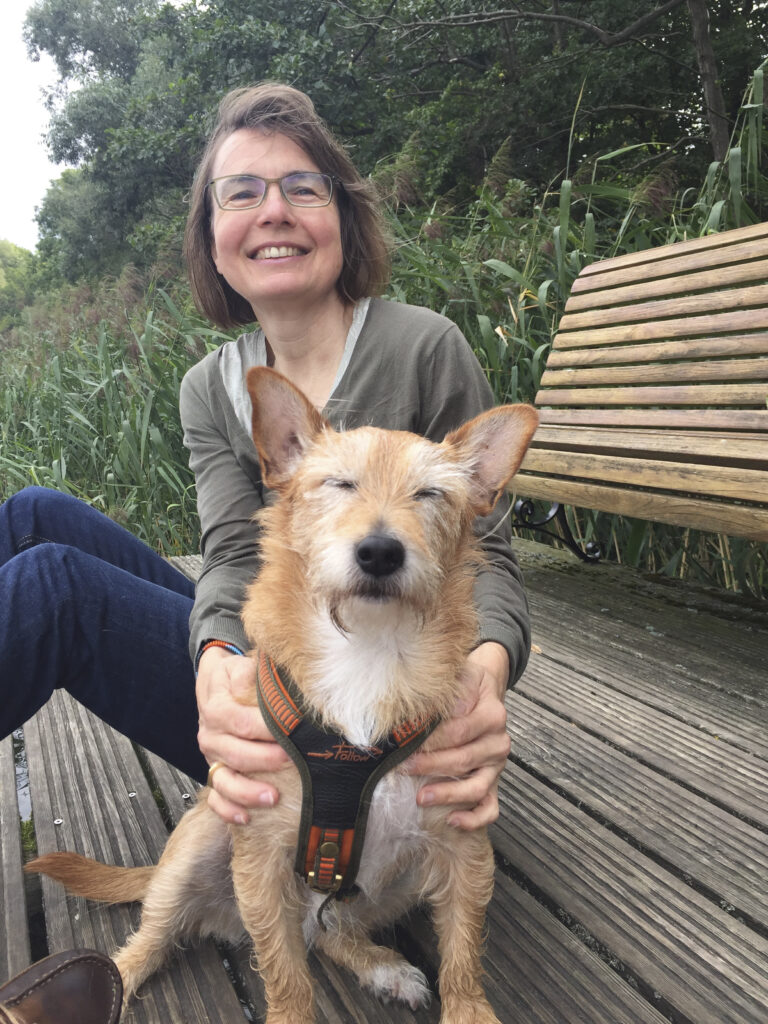 My areas of expertise

Wine
Travel / Tourism
Music / Visual Arts
Education
Marketing / PR
Economics
The Humanities
Berufliche Stationen
Seit 2003 realisiere ich als freiberufliche Übersetzerin Kommunikationswünsche in meinen Arbeitssprachen. Der Schwerpunkt liegt bei englischen und deutschen Texten. Meine Sprachkompetenz wird durch umfassendes Fachwissen und ein ausgeprägtes Bewusstsein für interkulturelle Zusammenhänge ergänzt. Auslandsaufenthalte und meine Arbeit beim British Council Berlin und bei der Internationale Nederlanden Bank (Deutschland) AG sind Teil meiner beruflichen Geschichte.
Career
As a self-employed translator (working languages: English, Spanish and German) I have provided language solutions since July 2003. The focus of my work is on English and German texts. My linguistic competencies are coupled with a sound knowledge in my areas of expertise and a sensitive intercultural approach. Studies abroad and my work at the British Council Berlin and the Internationale Nederlanden Bank (Deutschland) AG are an integral part of my professional narrative.

Auslandsaufenthalte
Auslandssemester (Studium der Angewandten Sprachwissenschaften) an der University of Reading / Großbritannien
Auslandssemester (Studium der Angewandten Sprachwissenschaften) an der Universidad de Oviedo / Spanien
Studium an der University of Westminster, London (Abschluss: MA Business Computing)
Time abroad
Language Studies at the University of Reading / UK
Language Studies at the Universidad de Oviedo / Spain
MA Business Computing at the University of Westminster, London